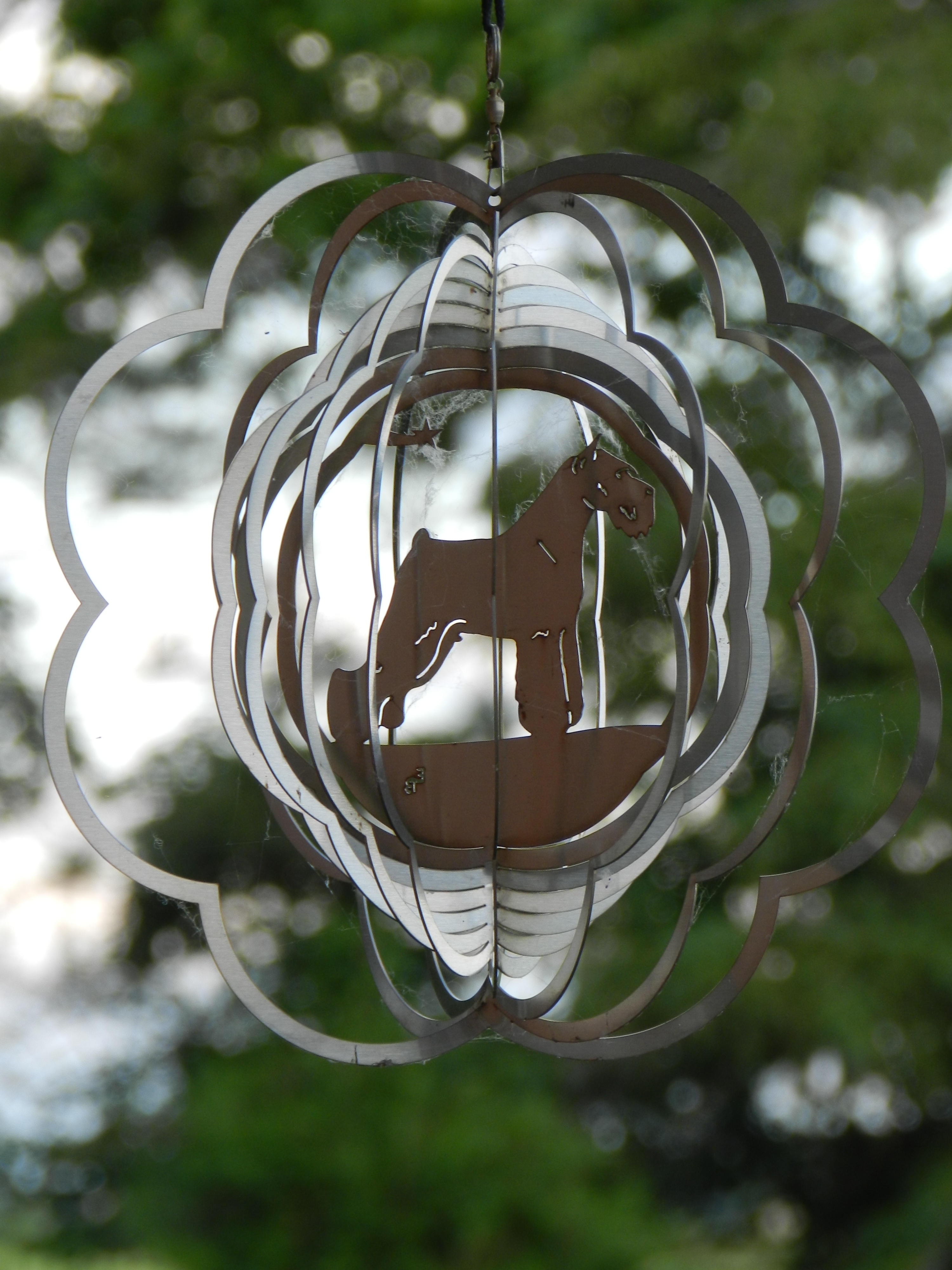 Hi Tracy,

Hope all is well with you!  Just thought I'd send a quick update on Sophie....she's doing great!

Adapted very well to her new home and is growing so quickly. She's definitely a growing concern lol!
I take her just about every where I go, so she's great in the car! She's been socialized with everyone in
my family (animals included) and is such a good girl.....very sweet disposition.

Housebreaking is going good as well....a few accidents here and there, but that's mostly my fault lol!
I've had her to the vet once (weighed 6.2 lbs) and she goes again this Friday.....the one thing missing in my papers was
a copy of her medical records for spaying which my vest has asked for.  Is it possible to have them emailed
to me?  I guess the vet needs them as well as the city for licensing.

Anyway, just wanted to let you know she is well and is loved very much (pic attached).

Thank you again.....I can't even remember my life before Sophie!

Take care,
Erin
***********************
Good Morning Everyone,

Proud Parents Dick and Michael (and biological father "Spook") are pleased
to announce that our youngest, Teddy, has just completed his Canadian Kennel
Club Championship requirements at the Aurora District Kennel Club Dog Show,
finishing with eleven (11) points. 

Many thanks to his "mom" Tracy who carted him around and kept his coat
looking great (and put up with two "high strung" co-owners).  Also to John
Glover who put his first seven point on in Kitchener and Aurora and Elaine
Paquette for finishing him on Sunday.

Teddy also received the "Best Puppy in Breed" on Saturday and Sunday AND
took the "Terrier Group Best Puppy" award on Sunday.  No extra points for
that but we are all very pleased and proud.  It was a long day for Tracy as
she had to stay for the Best Puppy in Show which is always at the end of the
day. 

Spook is a proud "Papa" who is currently trying to ensure that all this
attention does not go to Teddy's head.  After all, we must remember who came
first and who remains "top dog" in the Plauntz/Duplessie household.  We love
them both the same but they'll still have to work that out between them.

Have a great day, everyone!

Michael & Dick
**********************
Hi Tracey & Donna,
Hope this e mail finds you well.  The summer provided us with such beautiful weather, unfortunately it is raining here today.
MacKenzie is a wonderful addition to our family.  He is such a Daddy boy!  He is very smart which made house training him a breeze, thankfully.
We have been taking him with us on short trips which he loves but the big test will be when we leave for Florida!
Thank you both again for the joy (MacKenize) has provided to all that meet him.
Hi Tracy!
Update: My dog is no longer my dog. He's abandoned ship and is in love with my middle daughter Deanna. They go everywhere together. I can't believe Shawn. He is amazing! Since taking him home, he hasn't had one potty accident. He's a snuggler and yet when it's time to play, he's got a wicked gleam in his eye. He's very funny.
At the airport: You may be interested to know that he can hold his bladder longer than I can. I took a piddle pad and some grass clippings from my sister's backyard to the airport. There I was placing the pad down strategically and then the cut grass on top. Shawn walks over and starts to eat the grass. After that he goes and piddles on the tile just before the flight. Oh well. Then he's totally quiet for the entire trip and still won't go when we take him outside at SeaTac airport. Finally we get home and then he goes. It must have been over 6 hours before he went to the bathroom. He's definitely part camel.
Shawn is pretty good already in the crate. He sleeps there at night. He sometimes gives a WooWoo howl but settles down quite quickly when ignored.
Even though we've only been home 2 ½ days, he's already gone to a music festival and then to a fair with my daughter. Her horse people are trying to raise funds and they are using him as an attractant. Deanna tells me that he loves people, doesn't like horses, and is learning to enjoy other dogs.
We have deer running on our property. Yesterday Shawn ushered them off the property. It was quite amusing to see a tiny little thing with attitude running after the deer. I love it when his ears flop up and down as he runs.
We've selected a holistic vet for him. I know they'll be crazy about him. We are!
Thank you very much and I'll send pics soon.
Ellen 
****************************
Meinkismah's Bell Of The Ball, Sasha, competed at the AAC National Agility Championships August 6-8, held at beautiful Spruce Meadows in Calgary.  2 Steeplechase rounds were run on Friday, and after the scores were totaled, the top 20% in each jump height were able to compete in the Finals, held on Saturday afternoon.  Sasha ran beautifully, and ended up placing 2nd in the Finals, beaten by a very fast Papillon.  The actual Nationals competition involved 2 rounds each of Standard, Jumpers, and Gamblers.  Sasha placed 4th in Jumpers 1 and Standard 1, and 5th in Jumpers 2.  She still lacks the skill of working away from me, so the Gambler runs didn't go very well.  Overall, in a class of 20 dogs, Sasha ended up 7th for the 6 runs, and the most successful Miniature Schnauzer in the Regular dog competition.  What a fabulous agility dog she has become.

Barbara
*****************************
I just wanted to thank you so much for allowing my mom and I to adopt Lorelai. She has helped me through so many difficult situations including when my grandmother passed away from cancer and when my mom passed away from a brain tumour. She was introduced to my husband's family and my father-in-law who was not a dog person now plays on the floor with Lorelai. She truly is a special little pup.
Thank you so much.
Erica
****************************
Hi Tracy,
Things are going well with Boscoe! He sleeps well through the night with only a few minutes of whining. He gets along with the neighbour's dogs too. We have a vet appointment next week, and we'll forward any information afterwards.
He is very well behaved, loves to play and meet people, and will cuddle and settle down quickly. People are impressed!
Susanne and Ron
********************************
Hi Tracy and Donna
We just wanted you both to know that Chester is doing very well with us.  He has just had his first vet visit at Georgetown Animal Clinic where he did very well - the vet was very happy with him - he just thought he was a tiny bit underweight for his age - he weighed in at 5 lbs.  He suggested we increase his portions a bit.  He eats his food very quickly - usually gone in a couple of minutes - pretty funny to watch him devour it! Other than that, he was very pleased with him - he had a lot of nice things to say about mini-schnauzers and their personalities/behaviour.  Chester is scheduled to go back for his rabies shot in mid-October. They have asked us to bring a stool sample next time just to see that it is fine.
He is such a happy little guy and we are enjoying having him.
Thank yoy
Jackie, Grant, Andrea & Ian
********************************
Hi Tracy!
Long time no speak- or e-mail.
Ella is fine.  She has grown into a very calm, obedient (for the most part, and when it suits her Majesty) and VERY well behaved.  People always comment on how well behaved she is.  I took her to the airport recently to pick up my step-daughter Elizabeth, and I forgot her lead.  So I carried her into arrivals at Pearson and sat her on my lap.  Then the flight was delayed, so we waited for close to an hour and she sat/lied on the seat next to me and just chilled.  People came over all the time saying how pretty she was and how well behaved and calm she was.
Thanks for an excellent companion dog, Tracy.  She is a gem and the apple of Daddy's eye.
I was thinking (for a long time) of making  a day trip to see you and of course I would bring Meinkismah's Barron It All with me.
Is this something you are open to?  And if so, what dates are good?
Cheers,
Dave, Rob, Liz & Ella (a.k.a. Cinghialina) – it's Italian for little female wild boar – long story
P.S.   Ella is training for the new canine Olympic sport – Power Lounging – she has to practice by napping and stretching out on horizontal surfaces as often as possible.  I think she's a contender for the Gold!
*********************************
Tracy, just an update on Bud. Just came back from the vet, he's had all his
shots,
weighs 6 1/2 lbs and is in great health. He got his first haircut and the
salt& pepper is really coming in. He lost his first tooth last week. Just
about  completely trained to go outside, but sometimes I think he got me
completely trained to take him outside. Has learned several tricks, sit,
lay, rollover, sitting up and fetching ball. What a fantastic and loveable
puppy! Obviously my best friend.

Mike
**********************************
Hi Tracy -
We've never really been in touch with you regarding the brilliantly beautiful miniature Schnauzer that we acquired from you at the beginning of 2008. She has brought a tremendous amount of joy to our lives and we cannot thank you enough.
I have attached some pictures of Tinka for your viewing pleasure so that you can see how happy and healthy she is moving forward in life...we're hoping to get her a brother sometime in the next year and hope we can return to your home for a visit sometime in early 2010!
Hope this finds you well.
Regards and thank you once again
Al and Viv
**********************************
Hi Tracy,
The puppy Gizmo is doing well.   He has a very nice & active disposition.  Absolutely full of energy.  So far he is not shy of any loud sounds.  Instead he goes to investigate them.  Except for the first two nights, he is sleeping right through the night.
He has a very healthy appetite....too fast in spite of us putting larger toys in his bowl to slow him down.   See the video!
Hope all is well.
Take care
David and Martine
***************************************
Hello Tracy.
You asked that we keep you posted about "Buddy".
In short, he's just wonderful, and we're overjoyed to have him in our family. We bonded instantaneously and he has had absolutely no problem adjusting to his new environment. He sleeps all night in his cage in our bedroom, doesn't wake up until we do, and doesn't wet his bed. He's learning very quickly to pee and poop outside, and actually seems to be proud of it.
He is very well adjusted, in excellent spirits, and loves to play with us.
The cat beat him up a couple of times, but seems to have settled down now that her dominance in the household is well established.
Buddy saw the vet yesterday, and all is well.
In short, we're just loving him to death.
Thanks a lot.
--
Larry
*********************************************
Good Morning Tracy and Donna,
I just wanted to drop you a quick line to let you know that we will be mailing those papers back out to you today.
We took Luna to the vet yesterday - everything is great with her, and they absolutely loved her.  The Vet actually took her out back and showed her to all the other people  - She couldn't believe how cute, small and quiet she was.
Luna is doing great with our family, she's totally kennel trained and is doing extremely well with the house training. She is also enjoying the company of our big old cat Gabby - she's Gabby's shadow - follows her everywhere... Luna also thinks our parrot is pretty cool - the parrot is making little barking sounds like Luna now. So things are going well.
Thank you so much,
Sincerely, Joanne, Dana and Devon
********************************************
Hi Tracey and Donna, how are you both doing.  I just wanted to drop a line to say how much we are enjoying having Jesse. (Jessie is now 9 months, we picked her up in January).    Everyone that comes into our house just loves her, she has a wonderful personality and disposition.  She has turned out to NOT BE A BARKER,  which is a blessing.  She just wimpers when she wants up and lets out a little chirp almost like a bird.  We just love her to bits.  We got her a seatbelt and plan on doing some travelling with her this summer, which will be good for her social skills.  (We received the registration transfer certificate in the mail on the weekend).
But….one of the reasons I am writing to you is to tell you what a small world it is.  We have Jesse in her 3rd "Go Round" of obedience school (she is really good at everything she has learned), and when we were coming out another Schnauzer owner was going in.  The dogs took to each other right away and were face to face (like the picture in your website).  I got talking to the owners and asked where they got their dog.  Low and behold he said "Meinkismah"…..I just about fell over. What are the chances of that - you are way out in Embro and we are in Markham.
They just love their dog too….they called it Ben.  You might remember which dog it was, they picked him up in April and he is now 7 months old.  A little bigger than Jesse.  The people looked like they were maybe Portugese or Hispanic?  Does that ring a bell.  Anyhow the next time I am at school, I will ask the parents names.  I was wondering if he could have the same parent(s) as Jessie, or be related to her.
I would love it if you had a reunion of the parents/dogs that have come from Meinkismah.  Schnauzer owners are unique and to be able to socialize even for an hour or so with them would be fun.  Just a thought.
Anyhow once again thanks so much for our wonderful new member of our family.
Elaine & Doug

************************************

Last Updated ( Wednesday, 06 July 2011 17:48 )