Welcome to Meinkismah!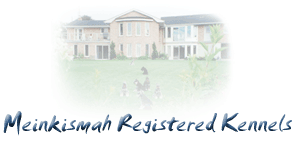 Meinkismah Reg'd Kennels is a family run adventure dating back to 1977 when the first of many wonderful purebred Miniature Schnauzers arrived in our home. The grooming and showing aspect of our dedication to this breed began in 1997.
Since that time Meinkismah Miniature Schnauzers have gained 40 (and counting) Conformation Champion titles in 10 countries and five continents as well as Agility titles, Obedience titles and Therapy Dog titles.
We believe Mini Schnauzers to be one of the best 'all around' family dogs. Miniature Schnauzers are bright, intelligent dogs who are generally quick and eager to train. They are non-shedding and while NO breed can be truly called hypoallergenic, the Mini Schnauzer is one of the recommended for those who do have allergies, and want a dog to consider.
Meinkismah Miniature Schnauzers strives to breed for the breed standard as defined by the Canadian Kennel Club, without sacrificing our commitment to health and temperment. The greatest show dogs come from the same carefully thought out breedings as the greatest companion dogs.
The Dog'S'Paw is the grooming division of Meinkismah Kennels. While the proper trimming of Miniature Schnauzers is clearly our specialty, we do in fact offer grooming for all small to medium sized breeds, including handstripped coatwork for terriers. We strive to achieve a minimally stressful experience by not over booking, avoiding cage dryers and incorporating stress relieving techniques.
Last Updated ( Wednesday, 06 July 2011 17:58 )